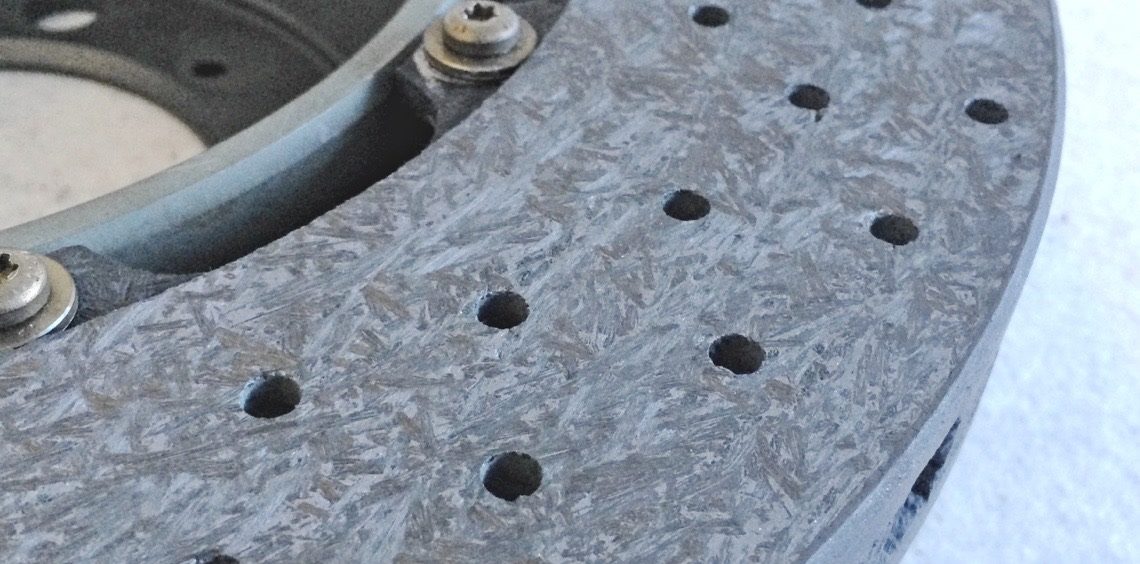 Brake disks made from carbon ceramic can finally be perfectly restored
Carbon braking systems have revolutionized motor sport as barely any other innovations have. The highly efficient functioning, the noticeable lower weight, the stable brake performance in race mode, and the extremely long lifespan make ceramic brake disks a must. The ceramic brakes heats up to above 1,000 degrees Celsius on the race track. In the case of road sports cars, a purely carbon brake disk does not work, as the disk also needs to work in everyday mode, in wet conditions, and at temperatures as low as minus 40 degrees Celsius in winter. As a result another material is used, carbon ceramic. This is a little heavier, but offers a considerably larger temperature window and noticeably longer durability. Nevertheless, the stress on the disk is still immense. When, however, a steel brake disk fails due to overheating, a carbon ceramic brake can continue to work reliably, and will do so until well above 1,000 degrees Celsius.
How does a ceramic brake disk get worn down?
At temperatures well above 500 degrees Celsius carbon fibres can burn off. This is particularly the case if the vehicle frequently brakes quickly from high speed ranges. Here experts refer to "oxidative wear", whereby the ceramic brake disk also loses weight. If placed under heavy stress, ceramic brakes should be checked regularly. Heavily stressed and worn disks require frequent repair. Characteristics are a rough surface, grooves, or smaller breaks. REBRAKE – this is the unique restoration service for ceramic brake disks run by FOXX Automotive. However, only brake disks which are undamaged at their core can be made as good as new following an extensive entrance test during which different diagnostics procedures are applied. Cracks running right the way through, for example, are criteria for exclusion. For this reason alone you should carry out regular inspections so as not to miss the right moment for a repair.
Value-for-money solution with an astonishing result – ceramic brake disk restoration
The REBRAKE repair service is unique, value-for-money, and incredibly effective to boot. And it is in increasing demand because ever more vehicles are being fitted with expensive ceramic braking systems. REBRAKE – a service that can make worn, heavily stressed ceramic brakes as good as new. And all that for a manageable cost. Exchanging a brake disk made from carbon ceramics can cost up to 5,000 Euro. Repair, on the other hand, costs much less, from 1,095 Euro plus statutory VAT.